Deluxe Playcenter Combo 2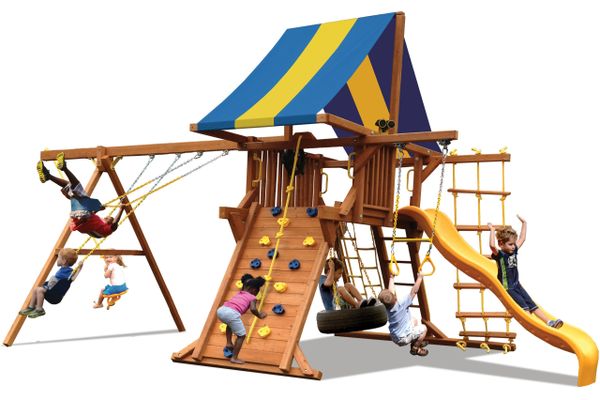 Deluxe Playcenter Combo 2
Our outdoor play center is designed for generations of fun with solid beam construction, 100 percent Pacific cedar solid beams, sturdy grips, snag-free and pinch-free hardware, and corrosion-resistant hot-dipped galvanized hardware. This extremely sturdy hardware and construction ensures your kids will have years of fun without concerns about safety.
This is one of our best-sellers for a reason. This play area features everything your kids need for fun, adventure, safety and development:
Rock wall with climbing rope. The rock wall has softly rounded colorful plastic rocks kids can use as hand and footrests, as well as a solid rope so they can enjoy extra safety and stability. Kids love climbing all over the wall, and the slight slant provides plenty of challenge while still keeping things safe.
Rope ladder. The rope ladder doubles as a climber by allowing kids to hang off the ropes or climb them as they build their agility.
Wave slide. The sturdy wave slide offers added movement and gives kids a different way to get back to the ground after climbing up.
Ladder with handrails. A ladder with safety handrails ensures kids can get a good grip as they climb up to slide down, climb down or just play on the deck portion of the play set.
Swing beam with two belt swings. Belt swings let your kids fly for the stars, and our no-pinch hardware ensures little hands are safe.
Knotted rope with discs. Kids can swing and build upper-body strength by holding onto these discs.
Tire swing. A classic tire swing is a great way to hold on and swing around in circles or just relax and read a book.
Ships' wheels and binoculars. The lookout portion of the deck allows kids to climb up and let their imaginations run wild. Kids can pretend they are on board a ship and steer the wheel, or they can pretend they are on an adventure in the mountains and use the binoculars to look out for dragons or other creatures in the distance. Kids can have fun playing in groups and learning cooperation and social skills as they go on imaginary adventures.
With these and other features, children have everything they need for hours of play. Kids get to stay active, engage with others as they play with their imagination and really inspire their creativity. Designed for years of heavy-duty use, this play area will last. Everything is topped up with a strong canopy roof to protect your kids from the sun while they play.
Includes: Heavy duty canopy roof, 10' wave slide, grip-n-go bar, rockwall with climbing rope, rope ladder, step/chain ladder with handrails, swing beam with 2 belt swings and knotted rope with disc, accessory arm with trapeze bar, 360° tire swing, ships wheel and safety handles.

Footprint: L 24' x W 12.5'
Overall Height: 12'
Deck Size: 5' x 5'
Deck Height: 5'
Slide Length: 10'
Swingbeam Height: 8'
Construction: Pacific Cedar


100% All Natural Premium Cedar (Splinters less than pine and North American timber.)
Only solid timber for unmatched structural integrity.  (We never use glued timbers.)
Larger 4x6 Timbers (Bigger beams can hold more moms and dads!)
Vinyl Dipped Safety Swing Chains (Protects fingers from pinching and insulates against extreme temperature.)
Rust Proofed Hardware (Dupont Dacromet® and Galvanized are the best.) 
                ADDITIONAL INFORMATION
| | |
| --- | --- |
| OPTIONAL ACCESSORIES | Monkey Bars, Sky Loft |
| SPECIAL PRICE | $3,699 |
| PRODUCT SIZE | Medium |
| DECK HEIGHT | 5 Feet |
| WARRANTY | 10 Year, for Bug and Rot |
| SWINGBEAM HEIGHT | 8 Feet |
| SLIDES | 10 Foot |
| DECK SIZE | Up to 25 Sq Feet |
| UNIQUE DESIGNS | Unlevel Yard Solution |
| BY SERIES | Deluxe Series |
| PRODUCT ID | 863 |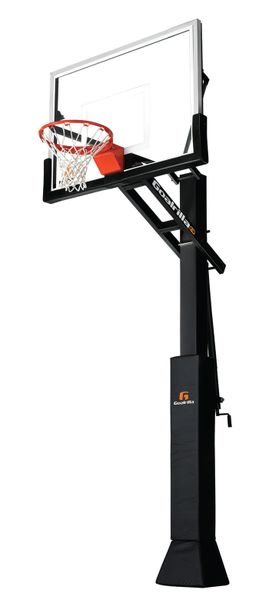 Goalrilla CV54
$2,299.95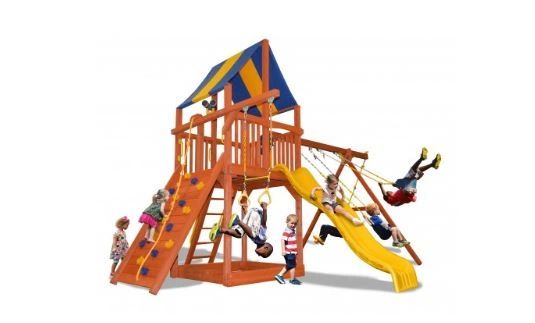 Deluxe Fort Combo 2

Goalrilla CV72
$3,049.95