MVP Goalsetter - Signature Series
MVP Goalsetter - Signature Series
The MVP's standard regulation 42" x 72" competition tempered glass backboard. 6" square off-set pole and spacious 4' 
regulation play area make the MVP superior for driveway play. The MVP's Internal Height Adjustment Mechanism allows rim height adjustment from 6'- 10', making the Goalsetter basketball hoop ideal for players of all ages. The Hinged Ground Anchor system enables a quick and easy installation, so you can start playing right away.
* 1-1/2" Structural steel backboard frame with H-Frame design for greater backboard stability and consistent ball response over      entire backboard surface
* HD Breakaway Rim with Nylon net locked
* 6" x 6" Square, one piece pole made of 7 gauge (3/16" thick) structural steel
* Wide grip, one piece die-formed extension arms
* Off- set pole design minimizes shake
* 4' Safe Play Area
* Corrosion Resistant Paint
* Internal Compression Height Adjustment Mechanism increases safety and protection from the weather
* Adjustable Rim Height from 6' to 1' with easy to read height indicators in 6" increments
* Easy to reach and turn crank at door knob height
* Crank removes to lock adjustment mechanism in place at desired height
* Ground Anchor Hinge System for easy installation and assembly
* Backboard Dimensions : 42" x 72" x 3/8"
* Recommended for residential use only
* Made in the USA
* Manufacture's Lifetime Limited Warranty
* Brand: Goalsetter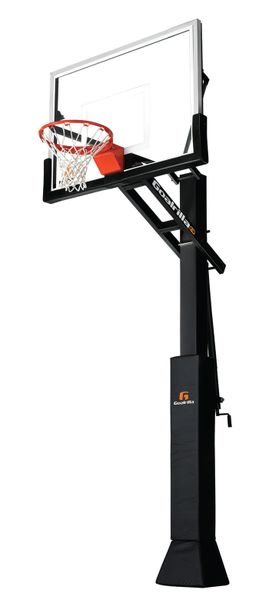 Goalrilla CV54
$2,299.95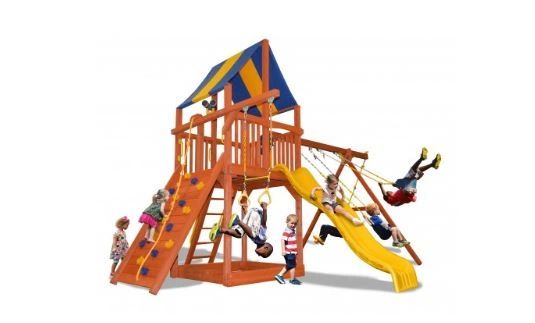 Deluxe Fort Combo 2

Goalrilla CV72
$3,049.95